By now, you've likely seen (and have been annoyed by) the commercials…you know, the ones with Jimmy Fallon talking about how everyone wants more cash (aside from babies).
So what exactly is this "50% more cash" all about anyways? Well, we did some digging to determine what Capital One is offering and whether it's actually a better deal than other cash back credit card offers.
Capital One Cash Credit Card
First off, the so-called "Capital One® Cash Credit Card" comes with 1% cash back on purchases with no limit to how much you can earn and no expiration date.
So using their example, let's assume you spend $24,000 on your Capital One credit card during the year (a hefty amount to be sure).
With the standard 1% cash back rate, you're looking at cash back of $240. But that's before the 50% cash back bonus is applied on your account anniversary each year.
Once that comes into play, you're looking at another $120 cash back, or $360 total.
So it equates to a 1.5% cash back bonus. But wait, there's more! You can also earn a one-time bonus of $100 if you spend $500 in the first 3 months of card membership.
In other words, the cash back percentage can be even higher than 1.5%, though it will vary with that bonus and how much you actually spend within the first year.
After year one, the most you can earn is 1.5% cash back.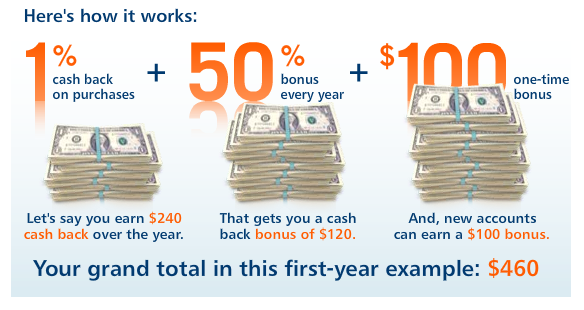 The obvious question now:
Is It a Good Deal?
Put simply, you get an additional $100 for every $20,000 you spend each year. Or $50 for every $10,000 you spend.  Or $25 for every $5,000 you spend.
I would venture to say that most cardmembers don't spend much more than $20,000 a year on their credit cards, so most will see a "50% more cash back bonus" of $100 or less.
And while it seems minimal, it's more than a credit card that offers just 1% cash back.
But you may be better off with a bigger initial upfront bonus offered via the Chase Freedom card ($200) or higher cash back percentages offered in fixed categories, such as gas stations and supermarkets, via the American Express Blue Cash Everyday card.
This may require doing some planning and math, albeit simple math, to determine which card is best for you in your particular situation.
The major downside to the bonus cash is that you can't earn anything higher than 1.5%, unlike other credit cards that come with anywhere from 2-5% cash back on certain purchases.
So this is really where you may lose out with the Capital One® Cash Credit Card.
One positive is that it's easy as pie to get your cash back with this credit card. You have the option of getting a paper check, applying a statement credit, or getting gift cards.
Additionally, you can redeem your cash back by phone, online, or set an automatic threshold for redemption. This ensures you don't forget about cashing in…
The Numbers
The Capital One® Cash Credit Card comes with introductory 0% APR for 12 months on both purchases and balance transfers (there is a 3% balance transfer fee).
After the promotional APR expires, the standard purchase credit card APR will be a variable 12.9%, 16.9%, or 20.9%, based on your creditworthiness.
Speaking of creditworthiness, you need "excellent credit" to successfully apply for this credit card.
Capital One defines excellent credit as someone who has not been more than 60 days late on any bills in the last year, has never declared bankruptcy or defaulted on a loan, and has had a loan/credit card for three years or more with a credit limit above $5,000.
The credit card is a World MasterCard® with no pre-set spending limit and $0 fraud liability. Additionally, you get automatic travel insurance when you use the credit card to purchase travel and collision, damage and loss insurance when renting a car.
Finally, there is no annual fee, making it one of the many cash back credit cards with no annual fee currently available.
So there you have it. A decent all around credit card with more cash back than most standard rewards credit cards, but not necessarily the best deal out there depending on where you spend the most money.