These days, most incentives are tied to credit cards, but Bank of America seems to be on a mission to reward its banking customers too.
After all, without their banking customers, they'd be in deep trouble, seeing that prepaid credit cards (Amex Bluebird) and other checking account alternatives (PerkStreet) are effectively making a push to stamp out traditional banking for good.
For years, BofA has offered their "Keep the Change" program, which allows debit card users to earn rewards for everyday purchases by getting transactions rounded up to the nearest dollar.
Pretty cool program for those averse to carrying a credit card that still want to earn cash back.
And now Bank of America has rolled out another perk for debit card users, its so-called "BankAmeriDeals," which as the not-so-short name implies, are deals for those with Bank of America accounts.
How BankAmeriDeals Works

How it works is pretty simple. You simply access your Bank of America Online Banking account, via either a dusty old computer or shiny new mobile device, toggle to the "cash back deals" tab, and then load deals that interest you.
BankAmeriDeals will also show up within your Account Details tab, next to relevant purchases.
So if you recently purchased clothing at a local shop, you might see a cash back deal for a big-box store like Aeropostale right below it.
If interested, all you need to do is click to add the offer to your associated debit or credit card, and you're all set.
The blue "plus" sign will turn into a green check mark, alerting you that the deal is ready for use.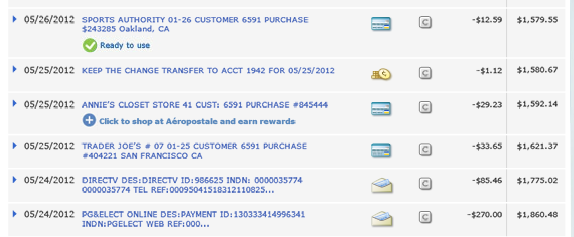 Then the next time you shop at the store (or online) using your associated Bank of America debit or credit card, you'll get a certain percentage of cash back.
Some of the examples included 10% cash back at Sports Authority, 15% cash back at Aeropostale, and 5% cash back at Autozone.
And the deals tend to be good in-store or online, unlike many coupons that only work online or in-store.
There's also no need to clip or print out coupons people – this is 2012, almost 2013!
Additionally, you can also opt-in to e-mail and text alerts to get reminders about new and expiring deals, along with a e-mail letting you know what you earned in the way of cash back.
At the end of each month, the cash back will be automatically credited to your account, and you'll be able to keep track of all of it online.
Tip: Merrill Lynch credit cards are also eligible for BankAmeriDeals.
Lastly, the cash back you earn via BankAmeriDeals comes on top of any other deals you can earn normally with these merchants, so it's a great way to maximize your savings.
If you're not a Bank of America customer, consider the Upromise rewards program, which offers similar cash back rewards, and is free and open to anyone.
Either way, try to achieve what I refer to as "layered cash back," that is, cash back on top of cash back by getting money from both retailers and your credit card issuers. Savvy consumers can earn thousands of dollars in cash back over the years by employing such methods.
Read more: Use Twitter to get cash back on American Express purchases.