If you're looking for free nights at a luxury hotel, you might want to consider the latest offer attached to the Ritz-Carlton Rewards Credit Card from Chase.
The complimentary nights have been doubled from one night to two, making it twice as nice for the guy or gal looking to stay somewhere in comfort free of charge.
The new offer requires $3,000 in spending during the first three months from account opening to get the two complimentary nights at any participating Tier 1-4 Ritz-Carlton hotel worldwide.
It's pretty much all Ritz-Carlton locations aside from the Ritz-Carlton Reserve locations, which total six.
Obviously the value can vary quite a bit, but some Tier 4 Ritz hotels will run around $700 (or more) per night during peak periods, so you could get about $1700-$1800 in value out of the two free nights when you factor in all taxes and fees.
For example, the Ritz-Carlton, Half Moon Bay costs $765 per night during summer months on a weekend.
So if you're looking to indulge for free, this could be the credit card for you. Other than the opening bonus, I doubt it's something you'd want to hold for more than a year.
The downside to this offer is that there's an annual fee of $395, which is not waived during the first year.
So your two free nights will actually cost you around $400, plus any resort fees that may or may not be included in those two free nights.
Once you spend the $3,000, the Two Free Night Stay E-Certificates will be automatically deposited into your Ritz-Carlton Rewards account. They expire 12 months after issue.
Tip: Watch out for the offer that requires $4,000 in spending. Find the $3,000 link before you apply by searching around!
How to Offset the Annual Fee on the Ritz Credit Card
Fortunately, there are several options to make that annual fee less painful.
This card provides a $100 hotel credit when you book a stay of two nights or longer at a Ritz-Carlton.
It can be used for dining, the spa, or other stuff at the hotel, though I believe alcohol is excluded, so think lunch by the pool or a discount on your expensive dinner at one of the hotel's restaurants.
There's also a $300 annual travel credit, which can be used for a variety of things like baggage fees, seat upgrades, airport lounge fees, in-flight meals and WiFi, and Global Entry fees.
It's obviously a bummer that you can't just use the credit to offset straight up airfare or gift cards for airfare.
And many people probably already have lounge access and/or Global Entry credit via Citi Prestige or Amex Platinum, making this credit not as useful as it looks.
By the way, you get lounge access via the Lounge Club with this card anyway, so it's a bit redundant unless you use an outside lounge.
Still, if you travel a lot you could probably get some use out of the $300, though it's not a clear cut way to offset to your annual fee if you just want the free hotel nights with no strings.
What Else Do You Get with the Ritz Credit Card?
The Ritz-Carlton credit card also gives you automatic Gold Elite status during the first account year, which provides things like free room upgrades, late checkout, and exclusive point bonuses.
If you manage to spend $10,000 on purchases during your first account year, you can maintain your Gold Elite status. The same goes for years after that.
Assuming you spend money like it's going out of style, aka $75,000+ each account year, you'll achieve Platinum Elite status. This results in arrival gifts (think champagne and chocolates) and room guarantees, among other things.
Regardless of what you spend, you also get three upgrades to the Ritz-Carlton Club Level each year, which is basically a lounge within the hotel that makes your stay at the Ritz even more exclusive.
However, both this benefit and the hotel credit are for paid stays, so I don't know if you can take advantage of these perks while using the free night certificates.
How to Earn Points with Ritz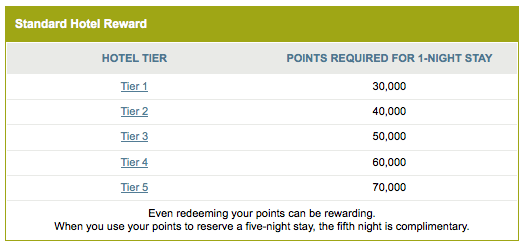 – 5 points per $1 spent at Ritz-Carlton hotels and partner hotels (Marriott and others)
– 2 points per $1 spent on airline tickets direct with airlines
– 2 points per $1 spent on car rentals
– 2 points per $1 spent at restaurants
– 1 points per $1 on other purchases
You also earn a 10% "Annual Points Premium" on points earned throughout the year. It's like the 7% Annual Points Dividend that used to be offered on Chase Sapphire Preferred.
So you'll earn more than one point per dollar spent, and even more if you spend a lot in the bonus categories.
The chart above details how many points you need to redeem hotel rewards. You get the fifth night free if you happen to book five nights. In other words, you can snag five nights in a Tier 1 hotel for 120,000 points.
There's also an option to book a room using a combination of points and cash, and a PointSavers program that requires 10,000 less points in each tier.
Is the Ritz Credit Card a Pass or Is It a Go?
In summary, with that hefty $395 annual fee in place, it'd be hard to justify keeping the Ritz-Carlton credit card in your wallet year after year unless you truly love staying at the Ritz and do so often.
And even applying for it to get the two free nights might be a stretch for some unless you have specific travel plans and really want to stay at a Ritz property. It could make sense for an anniversary or another special occasion.
You could treat the free nights less the annual fee as a subsidy I suppose. Of course, you're still paying $400 for two nights, which many folks may not be comfortable with.
A better alternative could be the Chase Hyatt credit card, which offers two free nights after spending just $1,000, and waives the annual fee the first year. And there are plenty of nice Park Hyatt hotels worldwide.
However, ~$400 might not be a bad deal for two nights at the Ritz-Carlton of your choice, just try to take advantage of all the freebies to offset that cost.
(photo: prayitno)