In the credit card reward game, there are generally two camps. There are those who chase after cash back rewards, and there are those who are most interested in points and miles.
The reason so many people tend to like points/miles over cash is the fact that they can often be transferred to leading frequent flyer programs at a 1:1 ratio, or even more than 1:1 in some cases.
Don't get it twisted. They aren't looking for points so they can buy an overpriced blender from the American Express Membership Rewards catalog.
That being said, let's take a look at which credit cards allow you to transfer points to airlines, and also highlight those that do not so you don't wind up buying that blender.
American Express Cards That Allow Points Transfers

The following American Express cards allow cardholders to transfer their Membership Rewards points to a number of different frequent flyer programs:
– EveryDay and EveryDay Preferred
– Green Card
– Gold Card
– Mercedes-Benz Amex
– Platinum Card
– Premier Rewards Gold
The business version of these cards also allows for transfers to frequent flyer programs.
*The Blue Cash cards from American Express DO NOT allow points transfers to airlines!
Amex Transfer Partners
AeroMexico
Air Canada (Aeroplan)
Air France/KLM
Alitalia
All Nippon Airways (ANA)
Asia Miles
British Airways
Delta Skymiles
El Al Israel Airlines
Emirates
Etihad Guest
Hawaiian Airlines
Iberia
JetBlue
KrisFlyer (Singapore Airlines)
Virgin America
Virgin Atlantic
Note that American Express charges a fee of $0.0006 per point transferred (maximum of $99) when you transfer your points to a U.S. Airline. That works out to $30 for 50,000 points, or $60 for 100,000 points transferred.
They do not charge this fee if you transfer your points to foreign airlines.
The transfer time for Membership Rewards to airline partners is generally fast, if not instant.
– Starwood Preferred Guest (SPG)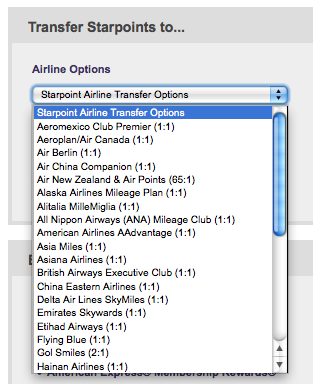 This card allows 1:1 transfers to a ton of different airlines and offers a 25% bonus for every 20,000 points you transfer.
For example, if you transfer 20,000 points to an airline, you'll wind up with 25,000 points. So it's really a ratio of 1:1.25. In other words, try to transfer in increments of 20k for the best value.
The downside is that transfers of Starpoints can take a minute…and by minute I mean up to 14 days. So you might miss out on that award flight.
But they have more travel partners than any other program…
Chase Cards That Allow Points Transfers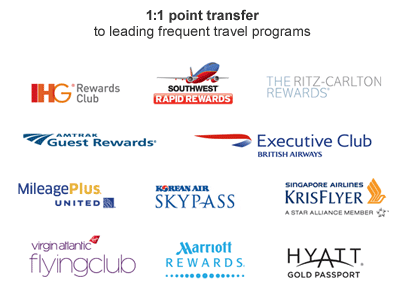 The following Chase credit cards allow cardholders to transfer their Ultimate Rewards points to different frequent flyer programs:
– Ink Bold
– Ink Plus
– Ink Preferred
– Sapphire (not the non-preferred version)
– Sapphire Reserve
*If you earn points via the Chase Freedom card and have any of the other Ink/Sapphire cards mentioned, it's possible to move points to the rewards account associated with Ink/Sapphire, and then on to frequent flyer programs.
Chase Transfer Partners
British Airways
Flying Blue (Air France, KLM)
Hyatt
IHG
Korean Air
Marriott
Ritz-Carlton
Singapore Airlines
Southwest Airlines
United
Virgin Atlantic
It tends to be a pretty quick, usually instantaneous process to transfer Ultimate Rewards points to frequent flyer programs, which is a big plus.
Citi Cards That Allow Points Transfers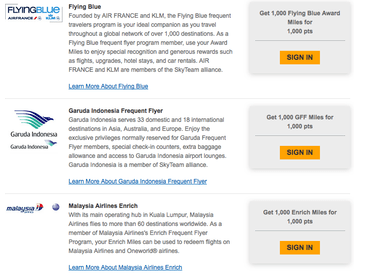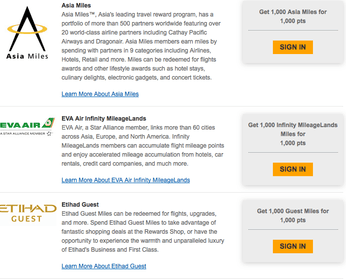 Last but not least, Citi now allows cardholders to transfer their ThankYou Points to leading airlines if they hold the following credit cards:
– Citi ThankYou Premier
– Citi Prestige
– Citi Chairman
Citi Transfer Partners
Etihad Guest
Eva Air
Flying Blue (Air France, KLM)
Garuda Indonesia
Hilton Hhonors
Malaysia Airlines
Qantas
Qatar Airways
Sears
Singapore Airlines
Thai Airways
TrueBlue (jetBlue)
Turkish Airlines (new as of late 2017)
Virgin America
Virgin Atlantic
There is no fee to transfer points to airlines, though there is a waiting period of up to 14 days, meaning you might have difficulty holding a ticket and paying in points.
You'll probably have to transfer points first and then book a flight using points. The minimum amount to transfer is 1,000 points with no maximum.
In closing, when you do consider transferring points to airlines from any of these card issuers, make sure you check the applicable rewards chart to see the transfer rate and any potential fees.
The list of airline partners can and will change, so it's best to log-on to your credit card provider's rewards site for the most current details.
(photo: namhdyk)