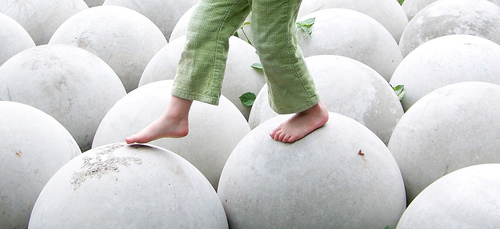 A "credit card balance transfer" allows you to pay off high-APR credit card debt with another low or 0% APR credit card, and is typically offered as an option when opening a new credit card.
In a way, it can be considered a refinance, as the existing credit card balance is paid off via the balance transfer credit card, which has a new rate and set of terms.
Let's look at an example of a credit card balance transfer:
American Express Credit Card: $1,000 balance @ 20.99% APR
Chase Credit Card: $5,000 credit line @ 0% APR for 12 months on balance transfers
If you accept the balance transfer offer associated with your new Chase credit card, you'll effectively have the $1,000 balance with American Express paid off by Chase.
So the balance on your new Chase credit card will be $1,000 and the balance on your old American Express card will be $0.
Put simply, the $1,000 is moved from American Express to Chase.  You still owe the same amount of money (plus any fees), but the credit card APR in this case will be set at 0% for 12 months.
The main advantage of accepting this particular balance transfer offer is that you'll be paying 0% APR for an entire year on that $1,000 balance, as opposed to 20.99% APR.
If you keep the balance on the American Express card, you'll pay roughly $17.50 in interest each month, or $210 annually (using simple math).
With the 0% balance transfer credit card from Chase, you wouldn't pay any interest at all for the first 12 months.
The only catch is you may have to pay a balance transfer fee, which is usually around 3% of the balance, although some credit card issuers offer no fee balance transfer credit cards as well.
In the example above, you'll still have to make a minimum payment on your $1,000 balance each month, but if you pay roughly $83 a month, you'll be debt free in a year with no interest (finance charges) paid!
That's the ideal balance transfer situation.
Where to Get a Balance Transfer Credit Card
Now you may be thinking a credit card balance transfer could be a good idea. So where and how do you get your hands on one?
Wells, banks and credit card issuers almost always offer balance transfers at the time of application for a new credit card.
They typically offer either a low fixed rate for the life of the credit card balance, such as 2.99% until it's paid off, or 0% for a promotional period, usually 12 months and up.  Some are as long as 18 months at the moment.
And if you apply for a credit card online or by mail, you'll likely be offered a balance transfer when you receive your card.
But instead of taking what comes to you, look for balance transfer offers online. There will always be a better deal waiting for you as banks constantly compete for our business.
Ultimately, banks and creditors pitch low interest-rate balance transfers offers with the hope you'll carry the balance with them, and eventually pay a good amount of interest to their bank instead of your existing one.
After all, most borrowers don't have the responsibility and know-how to pay zero interest for the entire balance they transfer. And this is what the credit card issuers bank on.
But if you're a wise consumer, and stay on top of your monthly payments, due dates, and make sure your balances are transferred before any interest is collected, you can win the credit card balance transfer game.
Just keep in mind that this isn't an invitation to spend frivolously or not pay your credit card balance in full. It's a way to avoid paying interest by outsmarting the credit card companies. Or rather, by simply being responsible.
[The drawbacks of a balance transfer.]
Consider Transferring a Store Credit Card Balance

Suppose you buy a flat-screen television from Best Buy and open a credit card account with them to finance the purchase.
They'll likely offer you a store credit card with an astronomical interest rate, something in the double-digits to be sure.
Instead of paying sky-high finance charges tied to the Best Buy credit card, you can execute a balance transfer in the hopes of getting 0% APR for 12 months or longer.
That way instead of paying a ton of interest to Best Buy, you can pay off the television at 0% APR or at a super-low APR until the balance drops to zero.
So this probably all seems too easy now. Why pay any interest ever, right? Well, there are a few "strings." Namely, you need to be a good borrower.
And to ensure your promotional APR actually stays low, make sure you do the following:
- Pay ALL bills on time every month to avoid universal default
– Maintain a good credit score so you qualify for all balance transfer offers
– Read the fine print so you're aware of ALL balance transfer fees
– Organize and stay on top of your multiple accounts
– Keep number of credit cards (and debt) to a minimum
Also understand that a credit card balance transfer may take several weeks to post, so don't rely on the new credit card issuer to pay your monthly credit card bill before its due date.
When applying for a balance transfer, you should continue to pay your credit card bill as usual, regardless of the status of the balance transfer.
If you rely on the balance transfer alone, and the post date is a day late, it could ruin everything, and kill your 0% APR hopes for a long time.
At this point you should know a little more about how a credit card balance transfer works and how it can save you a ton of money.
Happy transferring!
Tip: Choosing a balance transfer credit card.
(photo: Pink Sherbet Photography)