The crowded credit card lineup at American Express is about to get even more jam-packed.
Coming soon to a wallet near you will be the "Amex EveryDay Credit Card," which sounds an awful lot like the Blue Cash Everyday credit card, but has its own unique qualities.
Amex EveryDay Is Big on Membership Rewards
The main difference is that the Amex EveryDay card relies upon the company's Membership Rewards program, as opposed to simply giving you cash back.
That means those points can be transferred to partner airlines, which may give them a little more bang for their buck.
Additionally, the EveryDay card comes with a 20% point bonus when you use the card to make at least 20 purchase transactions per billing period.
In other words, American Express wants you to make this your credit card of choice for everyday transactions, hence the name.
Aside from the 20% bonus for 20+ transactions, the non-preferred version of the EveryDay card comes with 2x points at U.S. grocery stores on up to $6,000 in annual purchases (not at Costco).
So if you spent $6,000 at grocery stores annually, and always made 20+ transactions each month, you'd earn 14,400 rewards points. Put another way, that's 2.4 points per dollar spent on groceries.
And there is no annual fee on this puppy, making it a solid choice for someone looking to save some coin.
Amex EveryDay Preferred Credit Card Offers Even More Points
The "Amex EveryDay Preferred Credit Card" offers a more impressive 3X points at U.S. supermarkets (up to $6,000 annually), 2X points at U.S. gas stations (with no apparent limit), and one point per dollar everywhere else.
Additionally, you get a 50% bonus on points if you use the card 30 or more times in a billing period.
Using our example from above, you'd earn 27,000 rewards points each year, or 4.5 points per dollar spent on groceries with the 50% bonus factored in.
However, there is a $95 annual fee for the preferred version of the card. And it is NOT waived for the first year, unlike many other credit cards.
For the record, the American Express app has been updated to allow cardholders to track their monthly number of transactions more quickly and easily.
Amex EveryDay Brings Smart Chip Technology to America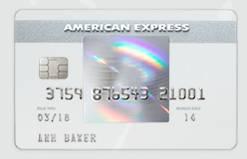 Aside from the great bonus points potential at grocery stores, the new credit card also comes with smart chip technology, which just about every credit card will have within the next year or so (see the gold chip on the left side of the card pictured above).
This means you'll be able to use your card more safely, though Amex EveryDay Card holders get the company's "Fraud Protection Guarantee," meaning you won't be responsible for fraudulent charges regardless.
The Amex EveryDay card is also a straight-up credit card, as opposed to a charge card, meaning you can carry a balance each month.
And for the first 15 months, American Express is offering 0% APR on both purchases and balance transfers. I'm not sure what the balance transfer fee is yet, but I'm assuming 3%.
Is Blue Cash a Better Deal than Amex EveryDay?
At the end of the day, you have to wonder if the Blue Cash cards aren't a better deal, especially the old Blue Cash.
For example, the standard Blue Cash EveryDay card has no annual fee and offers 3% cash back at grocery stores, not to mention 2% cash back at gas stations and select department stores.
The preferred version offers 6% cash back at grocery stores and 3% in the latter two categories.
So the only real benefit of this new card, other than the smart chip technology, is the fact that you can earn points instead of cash, which could be stretched further when used for travel.
Opening bonus: The non-preferred version of the Amex EveryDay Credit Card comes with a 10,000 Membership Rewards point bonus if you spend $1,000 in the first three months (the preferred version offers 15,000 bonus points for the same spend).